Jilla vs Veeram Songs : Side-by-side comparison
PUBLISHED DATE: 23/Dec/2013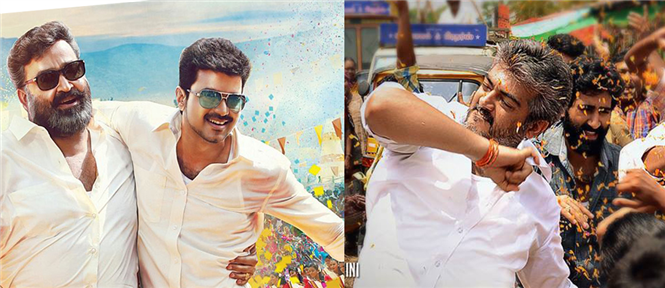 Jilla vs Veeram Songs : Side-by-side comparison
---
Vijay's Jilla composed by Imman and Ajith's Veeram composed by Devi Sri Prasad (DSP) released last week and both have been received very well by fans. After a long time, both Ajith and Vijay have released their music albums within 24 hours. Interestingly, both movies are set against rural backdrop and a number of other factors make the side-by-side comparison possible.
Jilla "Kandaangi" vs Veeram "Ivan Dhaana"
---
When the stakes are high, music composers don't look beyond Shreya Ghoshal for melody numbers. It is no surprise Shreya has sung both these songs. Jilla's "Kandaangi" is a sure-shot winner with excellent composition by Imman and masterfully sung by Ilayathalapathy Vijay. Veeram's "Ival Dhaana" is a simplistic melody track that may remind you of DSP's other melody numbers.
Jilla "Pattu Onnu" vs
Veeram "Nallavannu Solvaanga"
---
Both are typical hero intro mass songs. Jilla's "Pattu Onnu" is an interesting blend of mass punch lines and sentimental lyrics carefully crafted to give goosebumps for Vijay and Mohanlal fans. This song is expected to be pure magic onscreen. Veeram's "Nallavannu Solvaanga" is filled with signature DSP style groovy beats and catchy lyrics. Ajith's solo presence with possible montage scenes expected to carry a lot of mass appeal.
Jilla Theme vs.
Veeram Theme
---
This one is an easy pick. DSP has belted out Veeram's theme song "Radhagaja" with aggression dripping lyrics by Vivega. Expect this track in the background as Ajith hunts down the bad guys. Jilla theme has its own merits with a mix of rap and "sendai melam" to bring Malayalam flavour.
Jilla "Yeppa Maama Treatu" vs.
Veeram "Thangame"
---
Adnan Sami "Thangame" is a typical DSP peppy song with orchestration of higher quality than the loopy electronic rhythm beats in Jilla's "Yeppa Maama Treatu". The lyrics for Jilla are underwhelming with most lines bordering average to silly. Given Vijay's dancing prowess, you may never know. He could even salvage this pedestrian song with catchy dance moves.
Jilla "Jingunamani" vs
Veeram "Jing Chakaan"
---
Even though this is not fair to do a direct comparison, the song may be potentially placed in similar situations. "Jing Chakaan" is a rural track not usually seen in recent Ajith's movies. Both "Jingunamani" and "Jing Chakaan" appear to be weaker compared to other tracks in respective albums.
Jilla "Verasa Pogayile"
---
Imman scores again on "Verasa pogayile" with Waltz style grooves and rhythms. Imman renders this melody song quite effortlessly. Another strong winner for Jilla.
Verdict : Jilla
---
While Veeram scores on the mass-meter, Jilla has 2 top quality melody tracks in the form of "Kandaangi" and "Verasa Pogayile" which has no real match in Veeram. On that account, Jilla cruises ahead of Veeram purely based on the melody quotient and their expected longevity on charts.
Featured Trailers